We all love minigames and especially when you can get your own server and have your own for you and your friends to play on.
How Do Minigame Plugins Work on a Minecraft Server
Plugins are extra files you can add to a server to create new and exiting features for you and your friends to use on servers. Some plugins provide anti cheat features, cool additions like guns or just extra commands.
So when you join the well known servers like hypixel or bedrock servers like lifeboat network you're playing on lots of differently developed minigame plugins.
This means that if you rent your own server you can also use such plugins and have games like chess, murder mystery and other fun plugins that we will go through now.
Best Minecraft Minigame Plugins
So lets get started with the Minigame plugins, these range from 1.8 to 1.19.2 but to run them all, you're able to using a 1.17 server and using the viaversion or viabackwards plugin to allow older and newer version on.
1. Murder Mystery MInigame Plugin 1.8 – 1.17
This minigame plugins gives you the full murder mystery experience on your server and all for free! This includes roles like Murderer, Detective or just the normal players. Each role gets different perks of weapons and the idea is pretty simple, kill the murderer, try to stay alive or if you are the murderer to find everyone before the time runs out.
You get a great scoreboard on the right that displays all the live information and is super easy to set up like all plugins plugins. Using their intake GUI you can setup your arena in 10 minutes and even use free maps they provide.
The download is on their page, once you verify you can download it from the download page.
2. MineChess Minigame Plugin 1.8 – 1.19
One of my favourite plugins, the Minechess plugin gives you chess but in Minecraft! Not only is this easy to setup on your server. Including outbuilding boards and pieces and boards to join. But it also auto guides you with where to place your pieces and even follows all the chess rules.
It knowns when you're in check, checkmate and also helps you from placing yourself in check mate. It has a scoring system on the right and a command to check your general score. This works well on multiple worlds using multiverse or even multiple boards on one world.
3. The Bridge Minecraft Minigame Plugin 1.8 – 1.17
If you haven't heard of the bridge before, let me explain. Each team starts on either side of the bridge and the only place you can place or break blocks is in the void between the islands. To score the team has to get into the enemy base and jump into their portal to score.
Meaning that its a game of defence and offence by balancing trying to score with defending your base with your team mates. As with any plugins plugin this works really well for servers using multiverse or just one world.
Setup is easy and doesn't take long, all is done in game and you even have a free map you can use which is also downloadable from their discord.
The download is on their page, once you verify you can download it from the download page.
4. Paintball Battle MInigame Plugin 1.8 – 1.19
Another firm favourite of mine is the Paintball Battle minigame plugin and it works on 1.19 servers too which is a bonus!
This is a very well developed game with easy setup, which is all done in game with a great looking GUI and commands. It also has a great score board that you can also display with other plugins like holographic displays showing kill and score counts.
Teams of 2 will battle it out until your out of lives in any map you choose to create, you get perks that give you general bonuses or intake shops that you can use by collecting golden nuggets from other players deaths.
Using the in game shop you can get awesome new shooting methods like triple shot of even a nuke! A great addition to any Minecraft server.
5. Saber Factions Minigame Plugin 1.8 – 1.19
Faction plugins and servers have been around for some time, which has given them time to progress and get better and better. With Saber faction plugin you get the full factions experience with just one plugin!
That's faction claims, banks, permissions, checks for your teams and much much more. Used with an economy plugin such as vault it give you the bank features so other players in your faction can pay into your bank too.
Promote or demote players, grow your faction and become the top faction on your server! All with saber factions minigame plugin.
6. Iridium Skyblock Minigame Plugin 1.13 – 1.18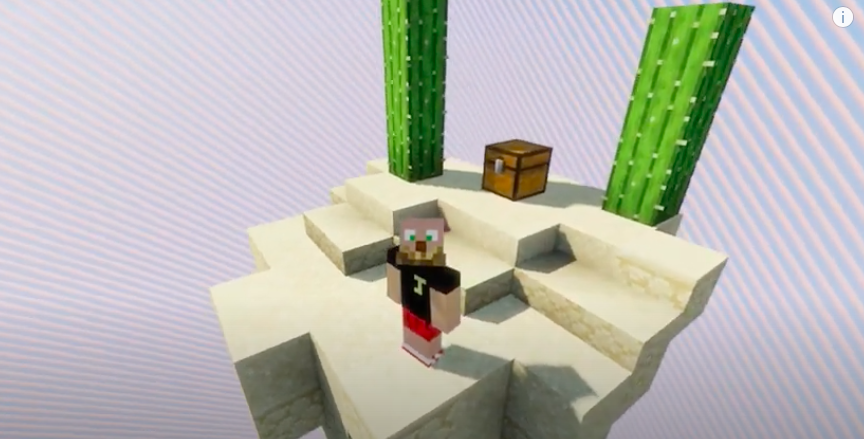 This is a plugin I have personally used for some time. The developer Peaches keeps this up to date with fixes and of course version updates (were possible). This is truly the best free Skyblock plugin for a Minecraft server and you will notice it reminds you of other well known Skyblock games you have likely played on bigger servers.
Fro island creation selectors to changing the biomes around for your island. This well developed plugin has all the well known Skyblock features and more.
Features:
Island shop
Upgrades
Missions
Coop with players
Protection from other players
All done on one world
Biome selectors
Ore generators
7. Build Battle Minigame Plugin 1.8 – 1.17
This is a well known minigame plugin found on most big servers. With this you can play with friends strangers or even enemies and still have fun!
For those with creative minds this minigame allows you to build and compete against others in getting the best looking build from the suggested word. You usually get around 5 or 10 minutes and once every has finished building you get to vote for each others builds.
The minigame included everything you might expect including floor changing, free map to use, instruction video to setup and even works with citizens to give your players a floor changing NPC.
As even with plugins plugins this works well, is good or multi world servers and also is super easy to setup. Download by joining their discord and go to the download page.
8. Village Defence Plugin 1.8 – 1.17
One of my absolute favourite and one I use every year for the servers at Insomnia Gaming Festival. This allows you to create a zombie survival minigame on any map you want!
With its easy setup and GUI you can have an arena up in minutes and also use multiple arenas. The idea is that you have 10 villagers that you have to keep safe, and of course yourself. Waves of zombies come out in waves and get harder and harder as you go.
The best thing about this plugin is that it gives you in game shops that you can setup for players to use, including golems and wolfs they can buy and spawn in to help them. All prices and items can be set by you to make this a unique minigame for your server.
You also get a free map to use from the plugins discord and its a pretty good one too! And not to forget this can be played multiplayer but also in single player to see what wave you can't too.
Download form the plugins discord under the download channel.
Conclusion
Whether you're using one or all of these plugins. your sure to have a minigame server that your friends want to join with this much going on. All these plugins are free and can be downloaded using the link button below the description that will take you to the original download site.