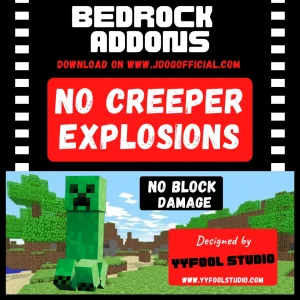 More About Anti Creeper Explosions
Gone are the days here a sneaky creeper can blow up behind you or infact anywhere! With this free addon you can now build in safety, travel with out getting blown up and avoid creapper holes! This addon can be used with other .mcaddon packs.
How To Import an Add-on/Resource Pack
Download the add on from the versions list at the top of the page.

Right click the downloaded .zip file and select "rename"

Change the .zip to .mcaddon and press yes when prompted.

Double click and it will automatically launch and import on your Minecraft.

Before creating a world scroll down to Behaviour & Resource packs and activate this one.

Existing worlds: scroll down to resource & behaviour packs and activate this one.