Thats right, ive started putting together Modpacks for some different style of gameplays. Check out the current Modpacks I have listed.
HavoCraft Modpack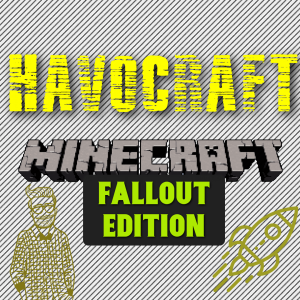 HavoCraft is a mix of realism and a post apocalyptic world. You can interact with villagers and form friendships or relationships. You can raise kids and even get married. On the other hand you have some mythical beast's that emerged after the nuclear war. From dragons to cyclopes you need to watch your step.
Due to the Fallout happening in 2075 you have some futuristic guns aswell as old style guns but all you will need to create from scratch. You have many machines you can craft, but to make machines work you also need power. Create windmills or water mills to get started untill you learn more about the complex energy making.
There is a wide variety of animals roaming the wasteland from the old world such as tigers, elephants, a variety of birds, fish and other species. Once you power up your village then start to defend it with turrets or warriors of the village.

Craft a number of vehicles including. cars. trucks, planes, helicopter and even jumbo jets. Claim your land and protect it using shears to mark either side.
For more information on this modpack and to join the server go to our HavoCraft Page.
| | |
| --- | --- |
| What Jar Is this on? | Forge |
| Minecraft Version? | 1.12.2 |
| Download From? | CurseForge + Launcher |
| Usable for Servers? | Yes, includes land claim |
HavoCraft Modpack Download
HavoCraft Modpack Gallery
---
Craft Theft Auto I (CTA) Modpack
Welcome to Craft Theft Auto, a modpack filled with city features. From cars and guns to interactive citizens. Craft guns, mod your cars and make sure to survive through the soldier or zombies with guns.
Explore the streets, find loot in the buildings, craft cars and race with your friends. You can even modify a huge amount of cars.

If protection if your game then start crafting a weapon bench and start a gun shop. That will be sure to get everyone wanting to spend some diamonds with you!
Mods include:
– Techguns
– Minecraft comes Alive
– Immersive vehicles.
– Immersive Engineering.
– Just Enough Items
– Lost City Generation.
– Chisel
– Other Dependency Mods for everything to work.
| | |
| --- | --- |
| What Jar Is this on? | Forge |
| Minecraft Version? | 1.12.2 |
| Download From? | CurseForge + Launcher |
| Usable for Servers? | Yes |
Craft Theft Auto Modpack Download
Craft Theft Auto I (CTA) Gallery
Termination Nation (Coming Soon)

12 total views, 1 views today