As we love Minecraft we though it is fitting to also have some information of Minecraft Lunchbox Suggestions for gifts, or of course for your self or the kids. So we have compiled a list of lunchboxes from cheapest to the most expensive with a link to get it straight from amazon if your tempted.
Great Minecraft Lunchbox Ideas For The Kids
With Minecraft been a popular game between all ages, as kids will always go through the Minecraft stage. So for that moment we have added some suggestions for you to choose your perfect Minecraft Lunchbox.
Lets get started with the best value Minecraft lunchbox first and then work our way to the deluxe version if thats what your looking for.
Please be aware link to products will also have affiliate links. For more information you can check out our Privacy Policy page. Prices may also vary if they have updated on amazon. For the up to date price reference the amazon links below the descriptions.
Minecraft Creeper Lunchbox £10.99
Starting of at a good price for anyone wanting a Minecraft lunchbox but not wanting to spend too much for it is the Creeper Lunchbox.
Simple but effective in design, this box for your lunch will most certainly get your kids a high 5 from any other Minecraft lovers in the school.
It is insulated on the inside to keep cold stuff at a more optimal temperature during the storage and an easy to wipe outer surface.
If this is your thing, then follow the link below to amazon!
Minecraft Kids Creeper Lunchbox £12.95
Moving on to the next Minecraft Lunchbox and again we have a creeper design. How ever this time with a more prominent Minecraft logo with creeper background rather than focus only on the creeper face.
This lunchbox also includes an insulated inside and easy wipe exterior. With a carry handle and zip it is sure to keep all that lunch well protected and ready to eat.
For more details or to buy this Minecraft Lunchbox, follow the amazon link below.
Minecraft Grass Block Lunch Box £14.85
Now were starting to get a different design and a great one at that. With a simple grass block from Minecraft they have made this amazing looking Minecraft Lunchbox! For kids going to school to even adding to your collection of Minecraft memorabilia this is simple but very effective design.
It has insulated inner lining and a connection which will work with Minecraft bags with the Velcro strip on the back.
It even has some amazing detail on the zip ends which make this the perfect gift for a Minecraft loving child or even adult.
Multiple Storage Minecraft Lunchbox £14.99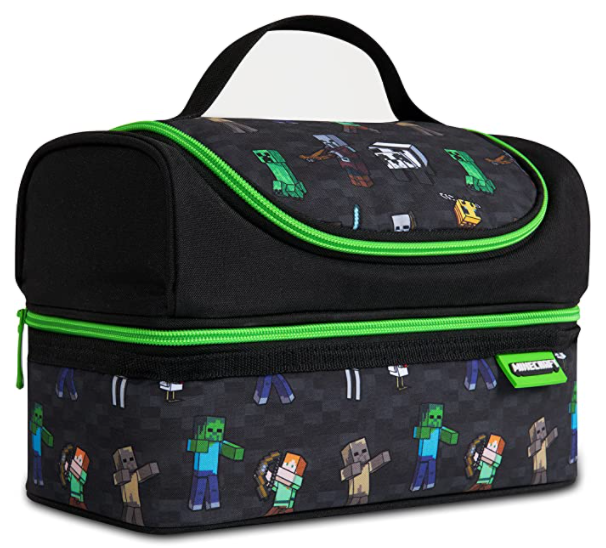 For only a fraction more than the last Minecraft lunchbox you can find this beauty. Not only does this lunchbox look great but it has some really great features.
Along with the insulated inner layer it also has a wipeable material on the outside. Meaning that any spills can be cleaned up very quickly.
The greatest feature of this particular one is the extra compartment in the top of the lunchbox. Meaning you have more space and also sepperate space if you wanted to keep some items away from each other. This is somewhat larger than the other Minecraft Lunchboxes though so be aware this is for a more heavy duty lunch.
Personalised Minecraft Lunchbox £18.99
One of my favourite options, this awesome looking Minecraft Lunchbox can be yours with your own name on. What better than having your name on your own lunchbox! There certainly wont be any excuses for kids "picking up the wrong lunchbox" with this personalised piece of Minecraft art.
This is also a thermal lunchbox meaning that your items should stay at their temperature for longer. Which is just what you need whilst eagerly awaiting that essential lunch hour to get your through the day.
For more details or to buy this product follow the amazon link below or tap on the image.
Waterproof Minecraft Lunchbox £29.70
Although the personalised one is my favourite, this by far has the best and clearest design on the front. The iconic Minecraft front cover is enough to make any other Minecraft jealous.
This Minecraft lunchbox boast features such as being completely waterproof. Holding quite a large capacity for the size of the bag and also comes with a very handy drinks holder meaning you can get more of that precious lunch in the lunchbox.
3D Graphics Creeper Head Minecraft Lunchbox £41.25
So finishing of with the crème de la crème of Minecraft Lunchboxes we will finish off with the 3D Creeper head lunchbox. This tidy little lunchbox will keep everyone on they're toes which these creepy creeper eyes starting at you no matter what direction you go in.
It has an ID holder on the back of the bag too to make sure that others dont get confused with your lunchbox.
Conclution
So whether your looking for a low cost Minecraft Lunch box or a Premium all singing all dancing one. We think you should be able to find the perfect one for you in this list of awesome lunchboxes. Thanks for reading and dot forget to leave a comment with any reviews on these if you go ahead and purchase them.