Get started with your own online shop. Easy to manage, add and edit products. Small efficient online stores with all the design and features of any well known online store.
Cheapest website design for online shops. You can get all the features offered in packages costing upward of £3000 for 10% of the price.
Due to the price being so low we currently only offer up to 30 products with 2 sections holding 8 variations each product. For example a product can have.

Variation 1
XS, S, M, L
Variation 2
Red, Blue, Purple, Yellow.

This doesnt mean you cant add more, but that is how many you will get ready and set to go. We will also be offering a maintenance service for anyone who wants their site to be maintained after creation.
For more information on site maintenance email [email protected].
Package Includes
Up to 50 Products.
Up to 8 Variations of Each Product.
Featured Image/Category Banners.
Call To Action Buttons.
Easy Stock/Order Management.
Easy to manage Contact Forms.
Specific or Worldwide Shipping.
On Site SEO.
Email Mailing/Replier List Set Up.
Coupons Set Up For You.
Clear Menu And Search Functions.
Card and PayPal Payment Setup.
One Off Payment: £299
E-Commerce Site Examples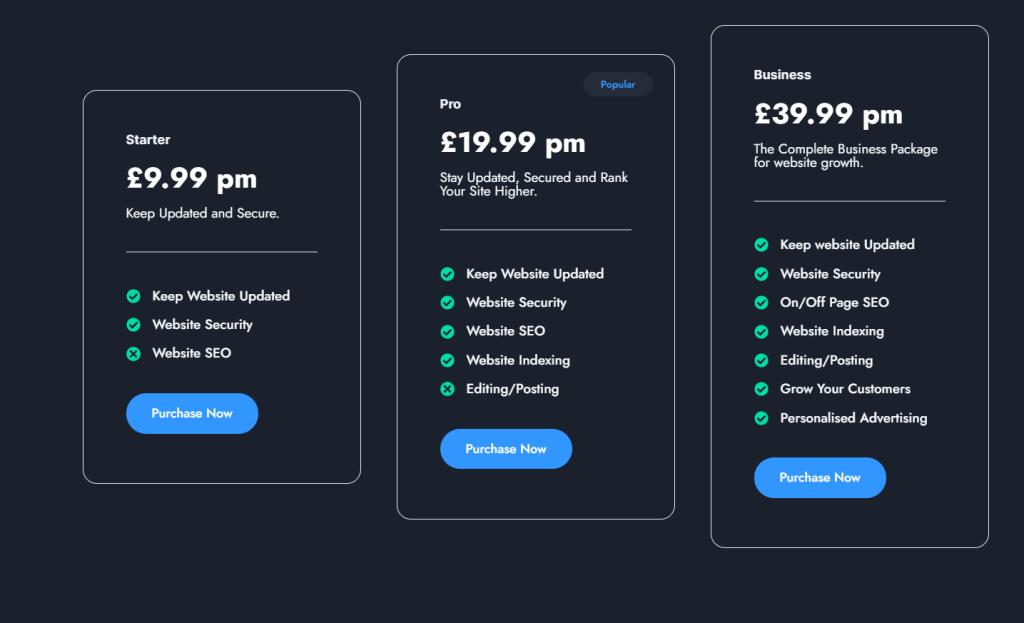 Simply use the form below, add as much detail as you want with any design pictures or ideas and we can work with you to create the perfect blog/website for you.
Not the package you want? Check out the rest of the website packages we offer.